By Nomusa Garikai | MDC is a party of corrupt and incompetent individuals; I did not expect the party's promised road-map plan, Road to...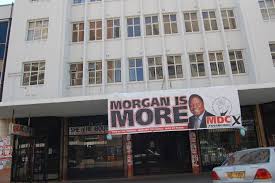 By Nomusa Garikai | MDC is a party of corrupt and incompetent individuals; I did not expect the party's promised road-map plan, Road to Economic Recovery, Legitimacy, Openness And Democracy (RELOAD), to be worth much. I was right, it is a road-map from nowhere and going nowhere else!
Chamisa said that the party will exert both political and diplomatic pressure on the government so as to reclaim its July 30, 2018, elections victory. This is just a lead balloon that will never ever fly; no nation will ever support him in that quest.
SADC, AU and such odd balls as China and Russia either endorsed the Zanu PF election victory outright. Or had to confined their report on the elections to the peaceful campaign period and said nothing about the glaring flaws and illegalities such as the failure to produce a verified voters' roll, to justify their thumbs up. No amount of diplomatic pressure from MDC will force this lot to switch and endorse Chamisa as the winner.
The Americans, EU, Commonwealth and other nations have dismissed the elections as a farce. "The electoral commission lacked full independence and appeared to not always act in an impartial manner," stated the EU Mission report.
"The final results as announced by the Electoral Commission contained numerous errors and lacked adequate traceability, transparency and verifiability. Finally, the restrictions on political freedoms, the excessive use of force by security forces and abuses of human rights in the post-election period undermined the corresponding positive aspects during the pre-election campaign. As such, many aspects of the 2018 elections in Zimbabwe failed to meet international standards."
So Chamisa expect the EU, Americans, etc. to accept his claim as the winner even though his figure contained the same "numerous errors and lacked adequate traceability, etc." as ZEC's figures. Chamisa failed to produce all the relevant V11 forms, giving the summary of the vote count for each polling station, just as ZEC failed to do.
"Legitimacy is an issue – last year's elections were illegal, and not free and fair. All reasonable observers concede that," admitted David Coltart, MDC Alliance Treasurer General.
In short MDC know that Zanu PF rigged last year's election and therefore the regime is illegitimate. Both Zanu PF and MDC know that the mandate to rule and legitimacy is a gift the people of Zimbabwe can confer in a free, fair and credible elections. What MDC is proposing is declare the illegitimate Zanu PF regime legitimate in return for a share of the spoils of power.
Chamisa called for the formation of a "National Transitional Mechanism" (NTM): variation of the 2008 to 2013 GNU; in which Nelson Chamisa and a few other MDC leaders are expected to hold cabinet positions.
MDC is once again promising that the NTM will implement "comprehensive reform" to ensure the next elections are free, fair and credible. One has to doubt MDC's sincerity given that the party has not exactly condemned last year's rigged elections; other than disagreement over the presidential race result MDC has never condemned the denial of 3 million in the diaspora the vote, the failure to produce a verified voters' roll etc.
Besides, even if MDC wanted the reforms implemented this time, it is Zanu PF who has the real power and they will never reform themselves out of power. In the 2008 GNU MDC had the majority in cabinet and parliament plus the backing of SADC who too wanted the reforms implemented. In the NTM, it will Zanu PF that has the majority in cabinet and 2/3 majority in parliament.
What is more, Zanu PF knows that MDC leaders will participate in the next elections even if not even one reform is implemented, for the same reason they participated in 2013 and last year's elections – greed.
If Zanu PF is still in power come 2023, be it on its own or in some power sharing arrangement, we can be certain the party will rig that year's elections too.
The only realistic way forward is for Zanu PF step down so the country can finally implement the democratic reforms to ensure free, fair and credible elections. The road-map MDC is proposing will not get us anywhere and we should not waste time on gimmicks! – SOURCE: zsdemocrats.blogspot.com
If our services have assisted you, our work would be much more secure with your help – For as little as £5, you can support ZimEye – and it only takes a minute. 
Source: Zim Eye